BIRCH RUN PREMIER LABRADORS

At Birch Run Labradors we pride ourselves on quality family hunting retrievers with exceptional field trial and hunt test pedigree's. Our business started from a passion of working with dogs. We currently have one litter of AKC lab pups each year. We currently offer training
​programs for both upland, waterfowl and most recently shed dog. We are also happy to announce that we are finished with our indoor kennel run and offer boarding at $15/night---$400/month.

Updates/Announcements

:
​
2016 Updates:
​-We expect a repeat breeding with Nella and Blitz to happen in the very near future! Puppies should then be ready for new homes late summer 2016.
​-Saturday, March 26, we went to Duncan Creek Kennels in Bloomer, WI for a Shed Dog Trial. All dogs received passes.
​-Friday, April 1 and Saturday April 2, we went to Brown's Hunting Ranch in Gettysburg SD. We got 8 passes total during this event.
​-Saturday, April 16 we head to World Championships for NASHDA. We hope to make it to finals on Sunday, April 17. We'll make sure to have our results posted​​​.
For more information on NASHDA (North American Shed Hunting Dog Association) click the link below.
Our Huntley came in 4th place at the 2015 Shed Dog World Championships!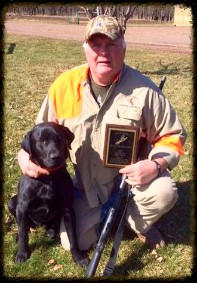 Pictured above is Hunter. He won the Flushing Division for the second year in a row at Bear Creek Hunting Preserve dog trials. Hunter is from Nella's 2013 litter, Nella took second just .32 seconds behind Hunter.