BIRCH RUN PREMIER LABRADORS

At Birch Run Labradors we pride ourselves on quality family hunting retrievers with exceptional field trial and hunt test pedigree's. Our business started from a passion of working with dogs. We currently have one litter of AKC lab pups each year. We currently offer training
​programs for both upland, waterfowl and most recently shed dog. We are also happy to announce that we are finished with our indoor kennel run and offer boarding at $15/night---$400/month.

Updates/Announcements

:
​
--On October 5, 2016, our sweet Nella girl passed away. It has been very tough on us. We miss her every single day. Although we will NEVER replace Nella, we hope we can add another female puppy (with a similar pedigree to Nella's) to our family this spring. Please check out our Birch Run Labs Facebook page for more thorough details.
--We are looking forward to Eva having her first litter spring 2017! Check back for further details.​​
​​
​​ ​​
For more information on NASHDA (North American Shed Hunting Dog Association) click the link below.
Our Huntley came in 4th place at the 2015 Shed Dog World Championships!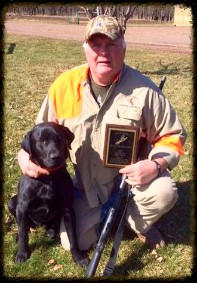 Pictured above is Hunter. He won the Flushing Division for the second year in a row at Bear Creek Hunting Preserve dog trials. Hunter is from Nella's 2013 litter, Nella took second just .32 seconds behind Hunter.